CyD Software Labs Mall
Language
News subscribe
Partners
CyD Software Labs > Blog > New features of CyD Careful Observer - Network Monitor 2010
New features of CyD Careful Observer - Network Monitor 2010
We published CyD Careful Observer – Network monitor 2010 two days ago. A new version was finished a week ago, but I cannot decide how to name it. I name my products by the name of the release year. Current release is 2009 and the next name must be 2010. It is too early to change name on 2010. I could do not change the version name and add SP prefix, but it is not update or service pack. The new version has a lot of changes. That's why we change the name of the release year.
There is a new monitoring engine in the new version. End users will not see the new engine code, because they don't need to see it :). But they will get advantages from the engine. New monitoring engine advantages:
There are new kinds of objects to monitoring:

Database. You can configure the program to monitor connection to your database. This feature will be useful to database administrators, system administrators, network administrators or other person who is charged with database availability. The program uses ADO.NET to test connection in specified period of time. You have to set connection string only to configure tester.
WEB page. The program can monitor WEB page availability. The tester will alert you when specified page is not available. This feature will be useful to WEB site owners.

You may set any number of testers to one host. The older version allowed setting only one tester to each host. To configure two testers on one IP address you had to create two network items in the program. Now you have to create only one network item. After that you create two testers to this item. One tester may test a port. Another tester may test availability (ping). If the ping tester works well but port tester fails – the problem is in service that opens the port. If the port tester fails and ping tester fails too then the problem is in host.
Any tester state changes are saved in the local log file. The program has an easy module to work with the local log. We are going to enhance the module in the near future. To work with the local log switch to Log page in the main window.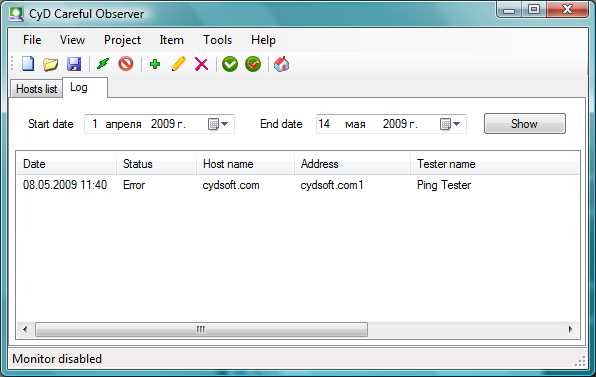 These features impel me to change the version number. I could name the new version as CyD Careful Observer SP2 or SP3 but it is not service pack. Registration period for our products is two years. All updates in this period are free-of-charge. If you bought the program less than two years ago you will receive the new version absolutely free-of-charge.